Back to Product Listing
Hand Dyed Targhee Wool Worsted Weight Yarn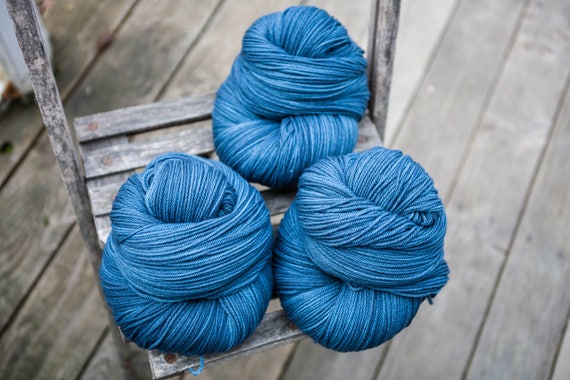 'Darkwash'
100% Targhee Wool
620 yards/skein
240 grams/skein
Worsted Weight
Targhee is a close cousin to Merino. It's one of my favorite wools because of its bouncy, squishable texture and wearability. For those without sensitive skin it is plenty soft enough for next to skin wear.
The Targhee breed of sheep was developed in the 1920's and 30's in Dubois, Idaho. It was named for the Targhee National Forest where the sheep grazed in the summer. I'll occasionally have sweater lots of this wool available. This wool is grown and processed in the USA.
There are 6 skeins in this dyelot. Skeins pictured are skeins for sale- although all skeins were dyed in the same pot, due to the nature of hand dyed yarn some variation is normal.
This yarn is not superwash. Please hand wash in cold water and lay flat to dry to avoid felting.
Hand dyed with low impact washfast acid dyes in my North Idaho studio.
100% Product of USA